Ooh - I'm excited!! My very first teen book - SK8ER BOY - has just been re-released from the publisher. This book was out of print - completely unavailable!!! -- until now!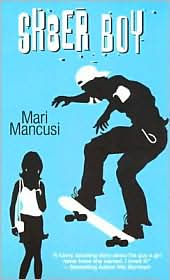 The book is a romance about a popular girl named Dawn who rebels from her strict parents and meets a skateboarder from the wrong side of the tracks and falls in love. They start dating - but secretly! Cause if her parents find out, they will so not approve!
You guys want to read it? Then there's a couple things you can do. First - easiest - you can get it online.
Amazon.com
or
Barnesandnoble.com
.
OR you can get it at a bookstore - but they may not have it in stock cause it's an old book. Sooo - just go to the information desk and say you want to order it. They'll get it in within a few days and you don't have to pay until it arrives. This is a great thing to do because it lets bookstores know they should be stocking this book!
I'm so excited you guys will finally have the chance to read this book - I really love it and was so sad to see it go out of print! So check it out and let me know what you think!!
MARI