Hey all,
I'm writing this from inside a Houston motel room, where I'm crashing before my very early AM flight to Orlando tomorrow AM. I've been having a wonderful few days hanging out with lovely fellow YA authors Tera Lynn Childs, Sophie Jordan, and Tracy Deebs--doing our mini Texas book tour.
On Sunday we spoke and signed at The Book Spot, a wonderful independent bookstore in Round Rock, TX. (Just north of Austin.) It was POURING rain out that day and I was a little worried people would stay home. Boy was I wrong! The place was packed--standing room only.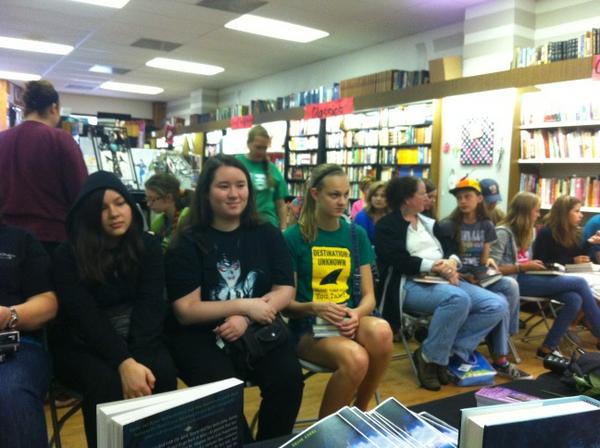 The audience filing in.
Everyone asked great questions, I handed out Halloween candy (cause it's never too early for Halloween candy) and then we signed a gazillion books. Some readers even had me sign the entire Blood Coven collection--all eight books! And a few brought in their copies of Gamer Girl. I have to say, I feel especially happy when I meet Gamer Girl readers--who tell me how they can relate to Maddy. Because Maddy was just like me, when I was their age.
Not sure why we look so serious here!
Posing with readers!
After the signing, Tera, Sophie and I drove to Houston and we crashed at Sophie's house. We woke up the next morning and hung out in Starbucks, working on our books. In addition to working on Dragonbound, I've been doing a little last minute proofreading for Alternity, which will be released digitally sometime next month. I'm excited to share it!
See how excited I look?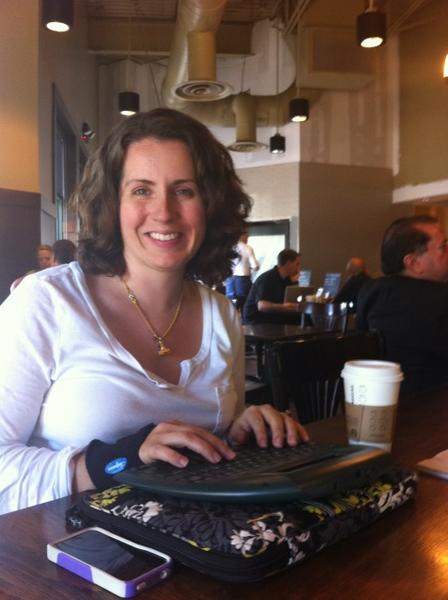 Deadline? What deadline?
And bonus--there was a cupcake shop next door!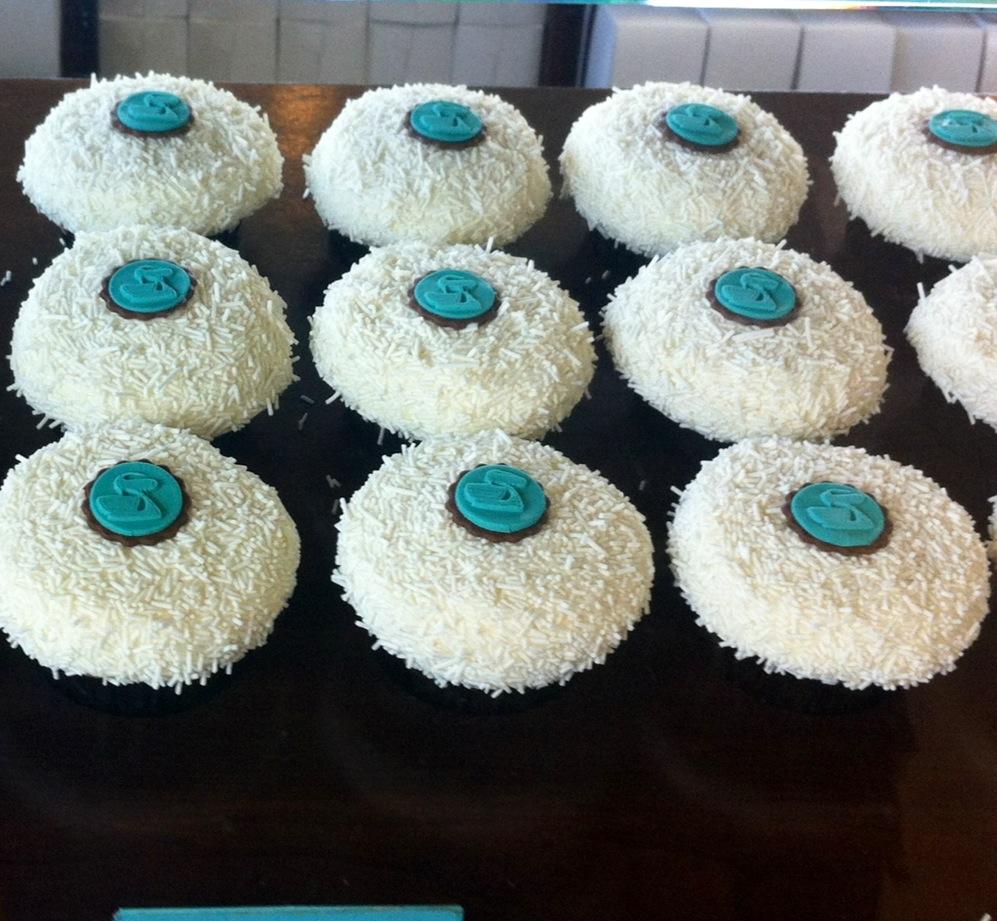 After picking up Sophie's son from school, we spend the rest of the afternoon writing by the pool. Not a bad way to spend a Monday--especially with the beautiful temperatures. I'm so glad Texas is finally cooling down a bit. Cannot WAIT for fall.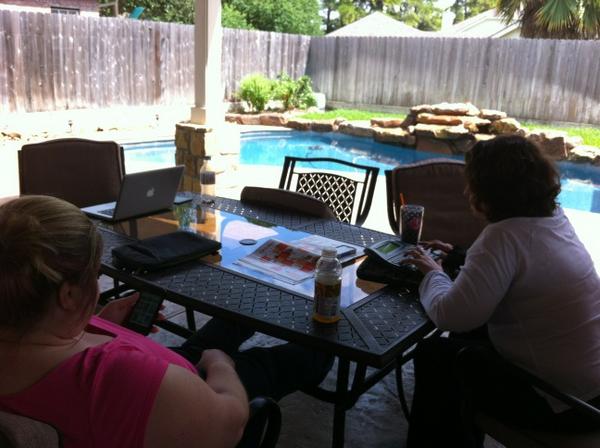 Living in a writer's paradise!
Then we packed up our laptops and headed to Katy Budget Books, another wonderful Houston area bookstore. There we did our presentation again in front of another packed house. It's so wonderful to have such supportive readers! I think a lot of them were new to the Blood Coven so I'm hoping they enjoy the books they picked up! I sold a lot of the omnibus version, which contains both Boys that Bite and Stake That. I always push that one--since it's two books for the price of one.
After signing books we were asked to do a bit of an arts and crafts project--handprints to hang on the store's wall! It was messy but fun and a lot of laughter ensued.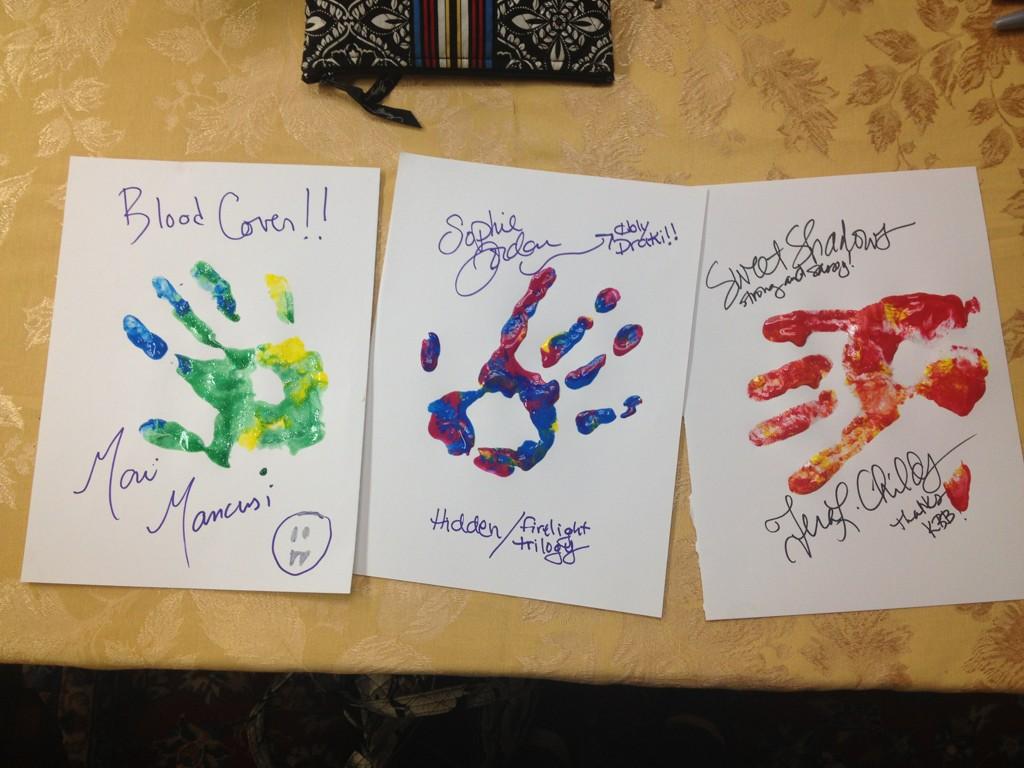 Then it was on to Mexican food for dinner and a drive down to the airport area so I could check into my hotel. My flight leaves first thing in the AM so I wanted to be close.
The tour will be on pause for the rest of the week, while I'm in Orlando, but will resume on Sunday where Tera, Tracy and I will meet back up at the Lewisville Barnes and Noble in the Dallas area. I'm sure that signing, set up by my lovely assistant Andrea, will be just as awesome as the others.
But for now, I'm exhausted. Ready for a little reading and then right to bed!
MARI