I know I promised Tomorrow Land would be out March 1st and here it is--the 7th--and it's not up for sale yet. ARGH! We had a little issue with conversion and so there's been a small delay. But I'm told it'll definitely be up for sale on Amazon by this weekend. I'll keep you posted!
To tide you over -- some great reviews and some guest posts from me about the book!

Over at Dark Faerie Tales, they gave Tomorrow Land a FIVE STAR (or 5 skull!) review. It's a very comprehensive well thought out review, but here's an excerpt.
"I really enjoyed this novel, and the depth that Mancusi put into all of her characters. I kept thinking throughout it that even if it was a minor character, they still felt like a real person. The plot and how Mancusi uses flashbacks to tell the story are really strong and consistent. The emotional battle that Peyton and Chase face with reconciling their past love felt so real. How the characters and plot are crafted together is beautifully done. I would definitely recommend this for anyone who loves an action packed, zombie filled, romantic tale of human strength."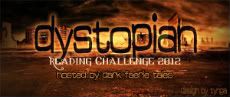 They also added Tomorrow Land to their Dystopian Reading Challenge 2012. Which is awesome!
I did a guest post over there today. And there's a copy of Tomorrow Land AND a copy of Soul Bound or Blood Coven Vamps Volume 1 up for grabs! So
go read and enter to win!
Speaking of giveaways, there's another two copies of Tomorrow Land being given away over at the Book Nerd blog, where I
guest blog about vampires vs. zombies
.
And then last, but certainly not least!!!, I'm over at Donna's "BITES" blog talking about my favorite zombie things. (There are some AWESOME zombie things out there.) I'm giving away one of these fabulous things and also a copy of Tomorrow Land. Go read that post -
here
.
Donna also has an
AMAZING 4.5 star review
of Tomorrow Land! She says:
"Overall, totally epic. I loved every second of it. The world, the characters, their lives, I wanted more. TOMORROW LAND is a stand-out edition to the world of post-apocalyptic fiction and I hope everyone gets a chance to read it. I can't say enough good things about it."
So there you have it! Lots of Tomorrow Land fun and lots of chances to win! And soon you'll be able to have the hot little book, downloaded to your ereader! In the meantime, feed your
GoodReads TBR pile here
.