Hey all,
As many of you probably already know, I am obsessed with Game of Thrones (the books AND the show!) I'm also releasing Scorched, my own dragon book in September. So, of course, when it came to picking out my cosplay for Dragon Con this year, I thought no further than the Mother of Dragons herself, the Khaleesi, Daenerys Stormborn.
In fact, I actually have two costumes for the con. The first is her wedding dress from Season One where she married Khal Drogo. (She wears it again during the funeral pyre scene.)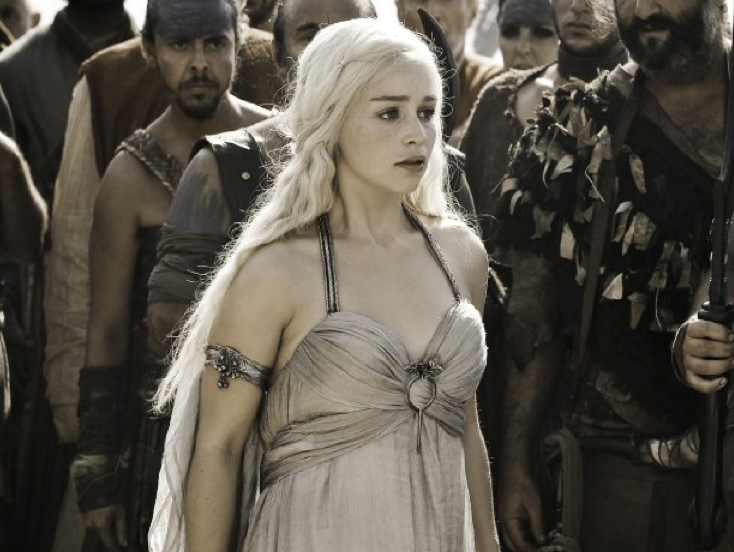 I have to admit, I'm a little worried about the cleavage in this one... :) But we'll see!
I have also ordered a custom wig and now all I need to get are my dragons!! I don't know if maybe for costume #1 I'll have the eggs and then costume #2 I'll have "live" dragons. Eggs might be a pain to carry around the con, but hey, sacrifices must be made!! (I'm also wondering if I should get purple contacts, so I can have purple eyes like she does in the books...)
The problem is I'm not only ATTENDING Dragon Con, I'm a guest, which means I'll be on a ton of panels. I'll also be selling copies of Scorched in a vendor booth. So I need costumes that can travel well as conversing from the Hyatt to the Marriott (YA Track to the Dark Fantasy and Horror Tracks) can be a bit....crazy.
I also have a third costume which is more vampire related than dragon related. I'll talk about that in a future post.
I apologize in advance - there may be MANY Dragon Con posts to come... I'm so excited to be going again this year!! And for the first time we have a hotel room in The Hyatt--so we'll be at the center of all action!
Cannot wait!
xo
MARI